24 thin shapped cells – Patient's weight up to 200 kg – Mattress washable into washing machine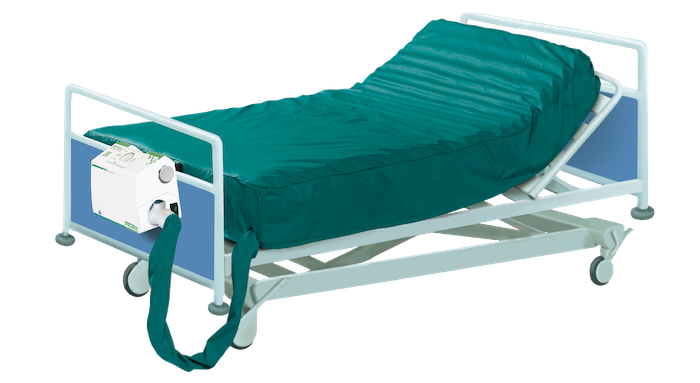 CLINICAL STUDIES APPROVAL – 24 thin shapped cells
Professor François-André Allaert, specialist in prevention of bedsores for bedridden patients, has carried out a clinical study, showing a very significant reduction of numerous bedsores in less than 30 days, for all patients using an Ascalis OPTIMO mattress.
With 24 thin shapped cells (Patent EP 2.341.883) – the patient benefits from therapeutic effectiveness in pressure sore prevention and optimal comfort.
Thanks to the thin shapped cells, the patient, even in a sitting position, benefits from optimal comfort because the positioning of the thin shapped cells, avoids contact with the frame of the bed.
With 2 pressure sensors integrated in the compressor, which automatically optimise contact pressure 24 hours a day, the alternating operation of the mattress limits tissue hypoxia by lowering the contact pressure below the clinical thresholds for occlusion of arteries, capillaries and venules.
The blood circulation is preserved for longer periods and plays a nourishing role by supplying oxygen and nutrients to the skin tissue, as well as a draining role promoting the elimination of toxins.
The automatic adjustment of the air pressure via 2 pressure sensors, integrated in the compressor, makes it possible to disinfect the whole mattress (inside – outside) into washing machine, thus reducing the risk of nosocomial infections.
HYGIENE –  Washing washable mattress into the washing machine

Ascalis mattresses  are designed to be completely washed and disinfected into washing machine at 60°C for impeccable hygiene.
It is recommended that the mattress and its cover be washed entirely in washing machine, as much as necessary, in order not to suffer from nauseating or pestilential smells that may occur and be linked to the patient's maceration or urinary incontinence.
Automated disinfection processes

Washing bedsores mattresses into washing machine provides a detergent and disinfectant action, obtained by a physical-mechanical treatment combining mechanical, thermal and chemical action, thus ensuring the health safety of patients, but alos of the nursing staff in health care hospitals and homes.
In order to garantee patients care and nursing staff maximum comfort and safety in hospital hygiene, Ascalis provides a mattress and cover cleaning service into washing machine, following a washing cycle protocol certified by Eurofins-Institut Pasteur de Lille and whose tests, carried out in accordance with french standard G07-172, show bactericidal and sporicidal activity on covers against Staphyloccocus aureus CIP 4.83, Bacillus Suptilis CIP 77.18 and Clostridium Difficilae.
Mattress specifications :

Stage I to IV pressure sore
Therapeutic mattress with automatic adjustment
Mattress adaptable to any type of hospital bed
Mattress size : width : 90 cm – length : 200 cm
Therapeutic air height : 18 cm
24 thin shapped cells (EP 2 341 883).

Breathable, liquid-impermeable cover, reduces the risk of maceration
Cover can be stretched in both directions to prevent friction and shearing
Ultra-resistant support base
2 zones de 12 cells including 2 pressure sensors integrated in the pump.
Cardio-pulmonary handle control : deflation in less than 10 seconds.
Maximum patient weight : 200 kg
Fight against nosocomial infections :

 

Lmattress washing into washing machine (inside and outside of the mattress)
The Ascalis mattress does not contain any foam,

which allows a complete decontamination and difinction of the mattress into washing machine.  (Foam permanently houses bacteria. Impossible to decontaminate, foam becomes a real field for bacteral culture – it is why Ascalis does not use foam in the desing of its mattresses).
Pump specification

Dynamic mode : 576 daily pressure change
Static mode : continuous low pressure. This mode guarantee a consistenly low contact pressure, while maintaining  a stable surface for patients who need to remain still and during specific treatments.
Care mode : assitance with positioning care and patient transfer – Automatic return to dynamic mode after 15 mn.

Transport mode : non-return air valve system – 8 hours autonomy to move the patient and with the mattress, the pump not connected.
Pump size : lenght 34 cm, height 24 cm, depth 18 cm
Pump weight : 3.8 kg
Silent pump : 32,5 dB
Alarm : audible and visual
Air filter : integrated in the pump
The Ascalis mattress with automatic adjustment is fitted with 2 pressure sensors, which allows inflation and deflation of air cells giving a complete discharge of an area over a given cycle. The 2 pressure sensors automatically measure and optimise the contact pressure 24 hours a day without external intervention.
Ascalis OPTIMO mattress Advantages
CLINICAL STUDIES APPROVAL
Approved Clinical Studies : attests a very significant reduction in the number of bedsores in less than 30 days, for all patients using an Ascalis OPTIMO mattress – 24 thin shapped cells – The Ascalis OPTIMO mattress is particularly indicated for patients who are bedridden 24 hours a day. With 576 pressure changes per day, the Ascalis OPTIMO mattress provides vascularisation and irrigation of the skin tissue for patients up to 200 kg.
Mattress containing 24 thin shapped cells : therapeutic effectiveness in pressure ulcer prevention and optimal comfort.
Machine wash : reduces the risk of nosocomial diseases and ensures impeccable hygiene.
Ascalis BARIATRIC mattress Advantages
Circular economy : promotes Zero Waste
Machine washable mattress
Mattress repairability : 10 years
Pumps and mattresses easy to use and to maintain
Maintenance promoting circular economy and Zero Waste