Therapeutic mattress with automatic adjustment
Stage I to IV pressure sore
Maximum patient weight : 200 kg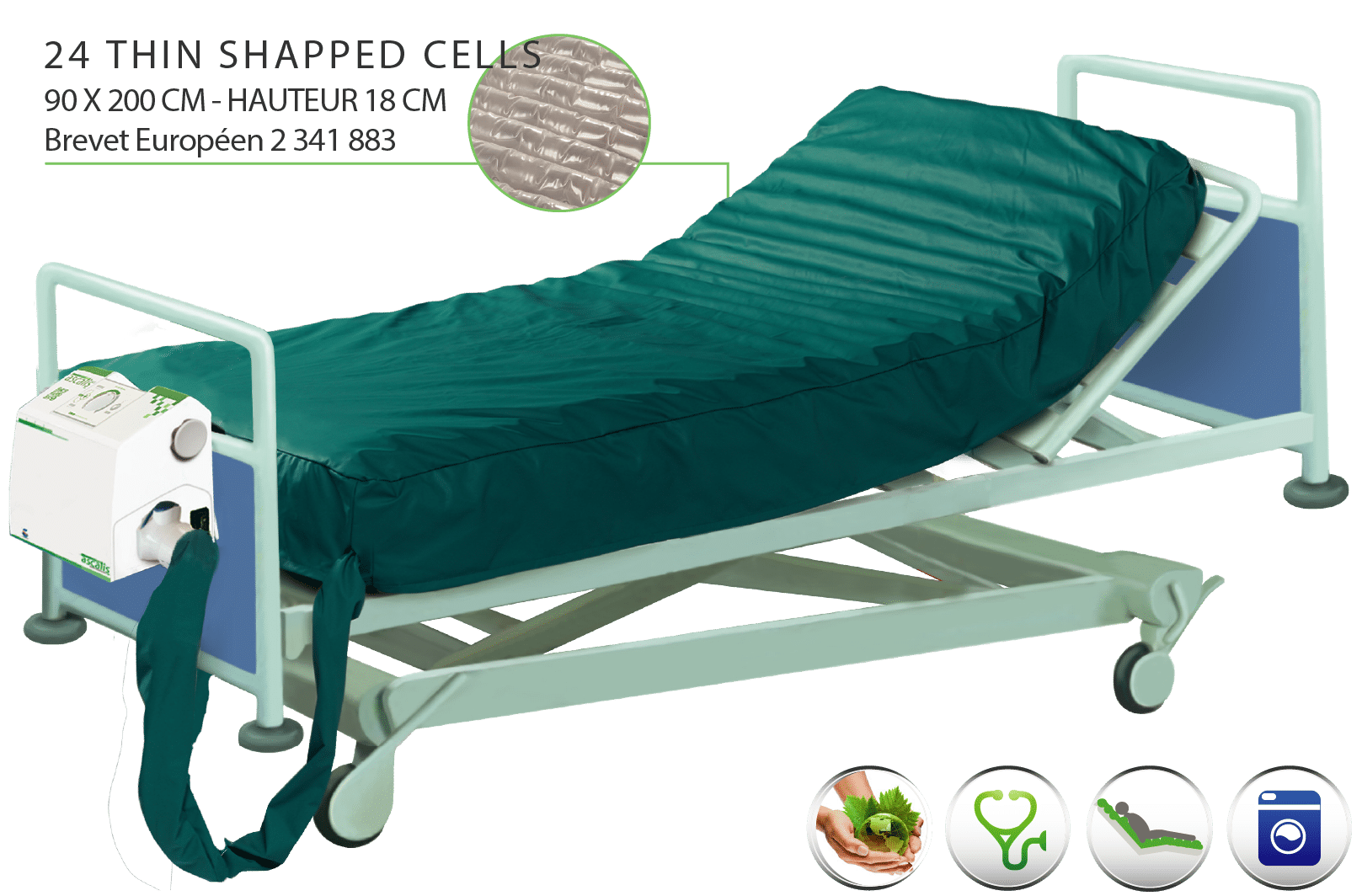 Mattress

Stage I to IV pressure sore
Therapeutic mattress with automatic adjustment
Mattress adaptable to any type of hospital bed
Mattress size : width : 90 cm – length : 200 cm
Therapeutic air height : 18 cm
24 thin shapped cells (EP 2 341 883).
Breathable, liquid-impermeable cover, reduces the risk of maceration
Cover can be stretched in both directions to prevent friction and shearing
Ultra-resistant support base
2 zones de 12 cells including 2 pressure sensors integrated in the pump.
Cardio-pulmonary handle control : deflation in less than 10 seconds.
Maximum patient weight : 200 kg
Fight against nosocomial infections : Lmattress washing into washing machine (inside and outside of the mattress)
The Ascalis mattress does not contain any foam, which allows a complete decontamination and difinction of the mattress into washing machine. (Foam permanently houses bacteria. Impossible to decontaminate, foam becomes a real field for bacteral culture – it is why Ascalis does not use foam in the desing of its mattresses).
Pump

Pump size : lenght 34 cm, height 24 cm, depth 18 cm
Pump weight : 3.8 kg
Silent pump : 32,5 dB
Alarm : audible and visual
Air filter : integrated in the pump
Clinical Studies Approval
Approved Clinical Studies : attests a very significant reduction in the number of bedsores in less than 30 days, for all patients using an Ascalis OPTIMO mattress – 24 thin shapped cells – The Ascalis OPTIMO mattress is particularly indicated for patients who are bedridden 24 hours a day. With 576 pressure changes per day, the Ascalis OPTIMO mattress provides vascularisation and irrigation of the skin tissue for patients up to 200 kg.
Mattress containing 24 thin shapped cells : therapeutic effectiveness in pressure ulcer prevention and optimal comfort.
Machine wash : reduces the risk of nosocomial diseases and ensures impeccable hygiene.
Circular economy : promotes Zero Waste
Machine washable mattress
Mattress repairability : 10 years
Pumps and mattresses easy to use and to maintain
Maintenance promoting circular economy and Zero Waste