Therapeutic mattress with automatic adjustment
Stage I to IV pressure sore
Maximum patient weight 250 kg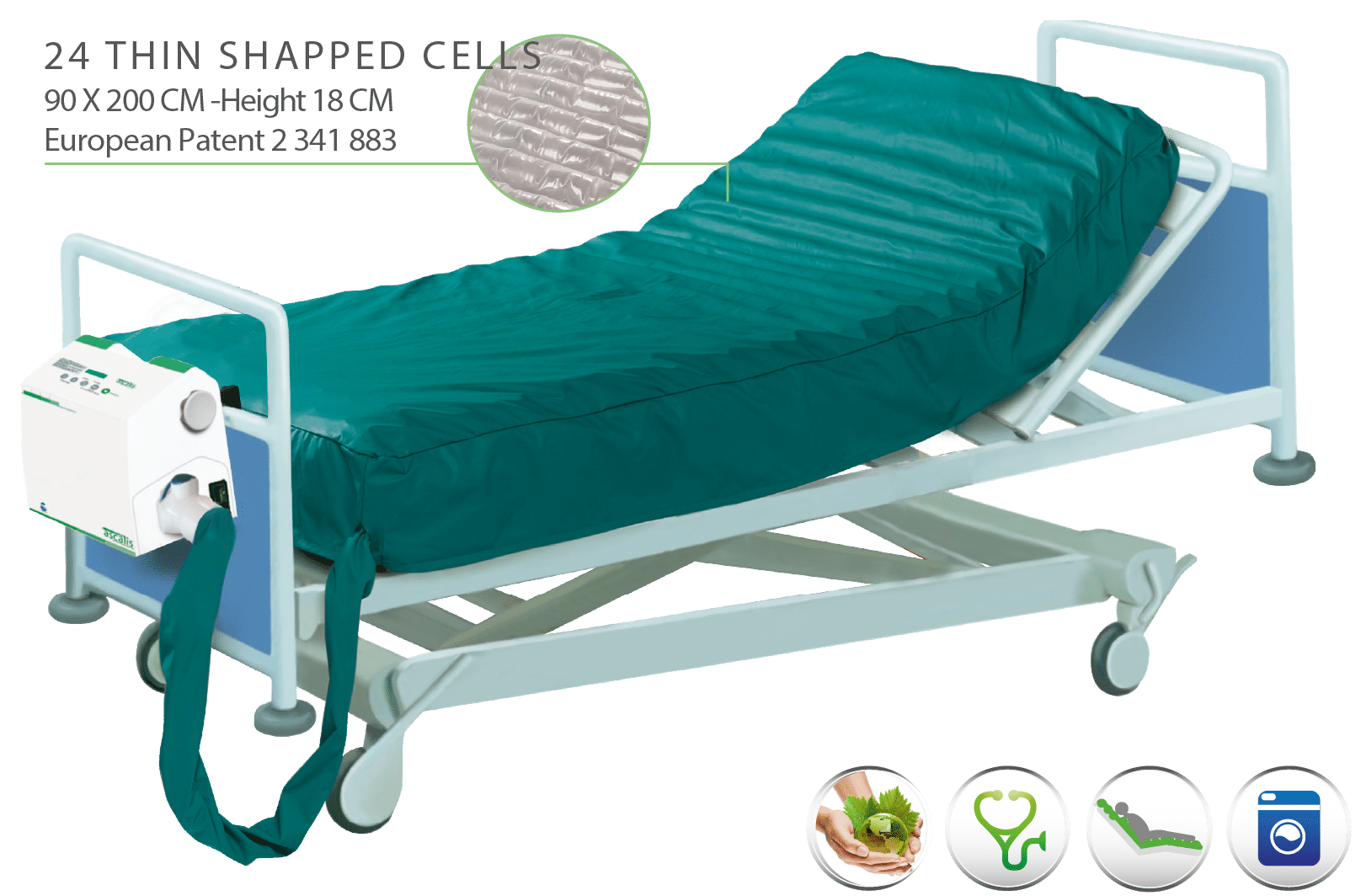 Technical characteristics
MATTRESS

Stage I to IV pressure sore
Therapeutic mattress with automatic adjustment
Mattress adaptable to any type of hospital bed
Mattress size : width : 120 cm – length : 200 cm
Therapeutic air height : 18 cm
24 thin shapped cells (EP 2 341 883).

Breathable, liquid-impermeable cover, reduces the risk of maceration
Cover can be stretched in both directions to prevent friction and shearing
Ultra-resistant support base
4 zones de 6 cells including 4 pressure sensors integrated in the pump.
Cardio-pulmonary handle control : deflation in less than 10 seconds.
Maximum patient weight : 250 kg
Fight against nosocomial infections :

 

Lmattress washing into washing machine (inside and outside of the mattress)
The Ascalis mattress does not contain any foam,

which allows a complete decontamination and difinction of the mattress into washing machine.  (Foam permanently houses bacteria. Impossible to decontaminate, foam becomes a real field for bacteral culture – it is why Ascalis does not use foam in the desing of its mattresses).
PUMP

Pump size : lenght 34 cm, height 24 cm, depth 18 cm
Pump weight :4,6 kg
Silent pump : 32,5 dB
Alarm : audible and visual
Air filter : integrated in the pump
Mattress Washable into Wahsing Machine
Ascalis mattresses are designed to be completely washed and disinfected into washing machine at 60°C for impeccable hygiene.
It is recommended that the mattress and its cover  be washed entirely in the machine, as much as necessary, so as not to suffer from nauseating or pestilential smells which can occur and be linked to the patient's maceration or urinary incontinence.
Circular Economy : Promotes Zero Waste
Machine washable mattress
Mattress repairability : 10 years
Pumps and mattresses easy to use and to maintain
Maintenance promoting circular economy and Zero Waste